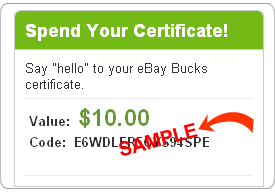 On August 3, 2010, eBay began to offer a new rewards program to buyers, eBay Bucks. For every dollar you spend on qualified purchases (not including shipping) that you pay for with PayPal, you will receive 2% back in eBay Bucks.  You accumulate eBay Bucks over a three month period, and they are disbursed to you at the beginning of the next month.  eBay Bucks spend like cash on eBay, but they expire in 30 days.  eBay Bucks is free to join.
I was surprised to learn that many veteran eBay users on the Atari Age forum did not know about the existence of the eBay Bucks program.  Unless money is no object to you, there is no reason not to enroll in the eBay Bucks program.  In the first quarter of 2012, I earned approximately $35 in eBay Bucks.  Get started today.
Click here to sign up for the eBay Bucks program.